5 Essential Steps for Modernising Your Dairy Farm
07 May 2019
-
Dairy Farms
-
Lactating cow
-
MilkingCloud
Your Dairy Farm is now at the centre of your life. Before making decisions about yourself, what always comes to your mind in the first place is your farm and works to attend. We, as the team behind MilkingCloud, recommend you to take the following 5 simple steps in your life, to make your farm and lactating cows better and contemporary.

1. Do Research
There are several methods for setting up a plan regarding your Dairy Farm. Visiting different farms, having chats with farmers, contacting unions or cooperatives, and your representatives therein, consulting a veterinarian or signing up Facebook groups, are among them. However, while carrying out such research, question and verify your needs against the size of your operation. There are immense differences between technologies used for 30 lactating cows and those employed for 300 lactating cows. The most fruitful method may vary for each level.
2. Take Notes on Your Farm
Keep a book and list all your opinions in it, when doing all this research and enquiries. Assort favourable and unfavourable ideas. Which of them can prove more useful to your business on your dairy farm? Analyse your farm's latest status. Compare yours with other operations' methods and discover the perspective that you need most. Track your animal's latest conditions, in the best way possible. Try and retrieve detailed reports during the decision-making process relating to your herd. Try and sort needs and recommendations in a prioritised list, according to your operation. However, make sure that you really care about the task you list as number one. Make sure not to omit or ignore placing focus on this number one solution in your operation's day-to-day activities.
3. Do Not Haste
Before starting your research, thoroughly investigate the financial aspect of the change you are about to make. Scrutinise the benefits vs disadvantages it brings upon you. Do not rush to decide on where the differences thereby caused should take you. Setting aside time for yourself to realise what you can and cannot change in sound, unfettered mind will be of primary importance to you. At this point, you should concentrate on figuring out what you really need.
4. Explore the Right Systems
Finding the right systems to track and understand the needs of your herd will help you take the right steps. Based on a full and comprehensive understanding of what you have done right and wrong in the past, you can identify and take the correct set of action. And properly tracking the herd is the key to do this.
You may gain instant access to your animals' data, regardless of wherever you are, from either a PC location or via your cellphone on the move, which is an unmissable feature and opportunity. In the meantime, you may learn what your dairy cattle are experiencing using both the Heat Detection System (M2Moo Heat Detection) and Bovine Mastitis Detection System MastiPro).
5. Now You May Start
Once you have done all your research and taken down your notes, you are much closer to making the right decision. Keeping calm and taking reasonable decisions is what matters most for you, during this process. If you move by taking little but firm steps, you may optimise the path leading to your future and convince yourself that you did everything right, when turning back. At the end of this modernisation process, your enterprise will undoubtedly have proven itself to you and encourage you to take further prospective decisions.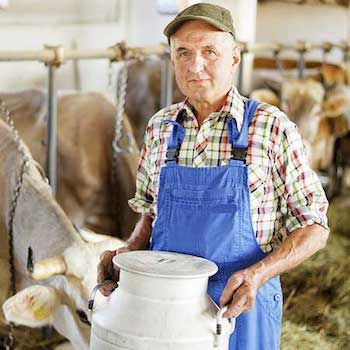 If you say yes to all of the questions below, then you can use MilkingCloud.
1. Do you own a smart phone or PC? Do you have live Internet access?
2. Are you ready to spend 10 minutes a day to enter regular data for the sake of your farm?
3. Are you aware that you should track your cows one by one, in connection with tasks at hand like heat, insemination, drying off and calving?
4. Have you ever forgotten things even once in a while?
5. If you had a helper to remind you about your work, do you believe that you could work more efficiently?