Importance of Using Technology at Dairy Farms
19 Mar 2019
-
Technology at Farms
-
M2Moo Heat Detection
-
Mastitis
There is a high correlation between the use of technology at farms and maximum yield obtained from each animal either for beef or for dairy production...

Today, while many operators have adopted and are implementing two or three agendas at a time, there are certain operators who try to track records of their processes on excel. Yet, there is a tremendous range of advantages that a less time-consuming, more efficient and easy-to-use technological Herd Tracking Application has to offer and bring to you.
Herd Management Software provides key benefits to a wide spectrum of clients, from farmers having 10 cows to 500-head cattle farms. Before describing most of these benefits one by one, we should first make note of a fundamental function. Automatic reminders, allows alerting of the user on detecting the exact timing for a task to be performed with respect to a cow with reference to a previously delivered task. For example, if it is found that follicles should be rechecked after one month, as a result of an examination of a cow, the system should send you an automatic reminder of such task when the said one-month period expires.
What are the Basic Functions of MilkingCloud Cattle Tracking Software?
Warnings created with birth date
Auto-reminders should include such aspects as heifer age at first calving, first time of insemination age and etc. Listings can be generated depending on first calving dates and animal candidates can quickly be identified for regular health inspections, accordingly, on the Herd Management Software.
Warnings created with insemination date
With the first insemination date of a cow or heifer, it is possible to configure a reminder for pregnancy check date, in the first place. Thereby the related animals can swiftly be listed on MilkingCloud, when a veterinarian visiting the premises expresses the need to check "animals potentially at 3rd or 4th month of gestation".
Warnings created with pregnancy check
According to the results of pregnancy check, a second test can be advised. Also, an automatic reminder is thereby set for drying off the animal in concern.
Warnings generated with calving date
When the cow calved for the last time matters. It may be used to set auto-reminders for expected heat period and physical inspection dates.
Warnings generated with heath treatment
You may as well arrange for the automatic setting up of a reminder of a treatment that needs to be administered again, a certain while later.
Warnings about vaccination and synchronisation calendar
The system will generate reminders right on time according to cyclic vaccination frequency and synchronisation protocol of choice.
MilkingCloud will make sure that you automatically retrieve not only your personally entered data but also warnings associated with data obtained through the Heat Tracking System (M2Moo Heat Detection) and mastitis detection system (MastiPro).
How to Use MilkingCloud Cattle Tracking System?
The automatic reminders described above will automatically arrive at your e-mail or mobile application as a mobile alert through the MilkingCloud Herd Tracking System when the time comes. You can easily see what awaits you in the days ahead and what you need to do on a single screen.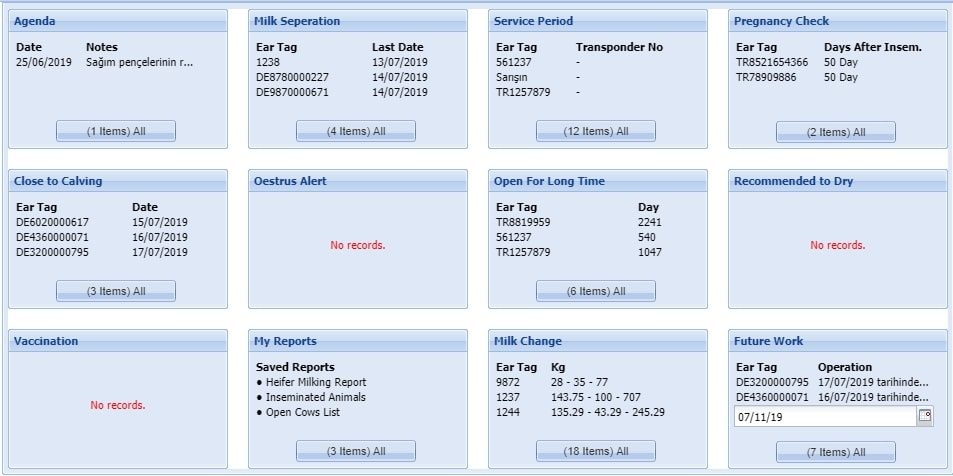 Besides all the auto-reminders, the ability to view the herd, in general, is also quite essential from the point of productivity. Furthermore, easy access to these reminders will prevent you from missing anything by accident. MilkingCloud offers you a beautiful window dedicated to this purpose that pops up once you perform a user login to the system.

One of the most important feature of MilkingCloud System is the "Herd Overview" screen.
Herd Overview is a feature that lets you quickly view such details as how many lactating cows are there in your entire herd, how many individuals are ready for insemination, etc., on a single application screen. Moreover, you can see how many pregnant cows that close to calving.

You may easily initiate such procedures that must be performed with borderlands at transitions. For instance, you may immediately visualise the animals at the dry off zone and get their list to instantly initialise drying off procedure. Or, alternatively, As the pregnancy check is not done yet, you can quickly identify the animals that are not known to be pregnant even though they are inseminated and you can create examination list.
The subjects to be covered by standard recording and record-keeping process are obvious, at every farm. However, the habitual attitudes of each farmer and manager for reviewing and reporting operational data may differ. MilkingCloud Herd Management Software addresses this matter, by delivering the Dynamic Reporting ability and function in support, to each and every user.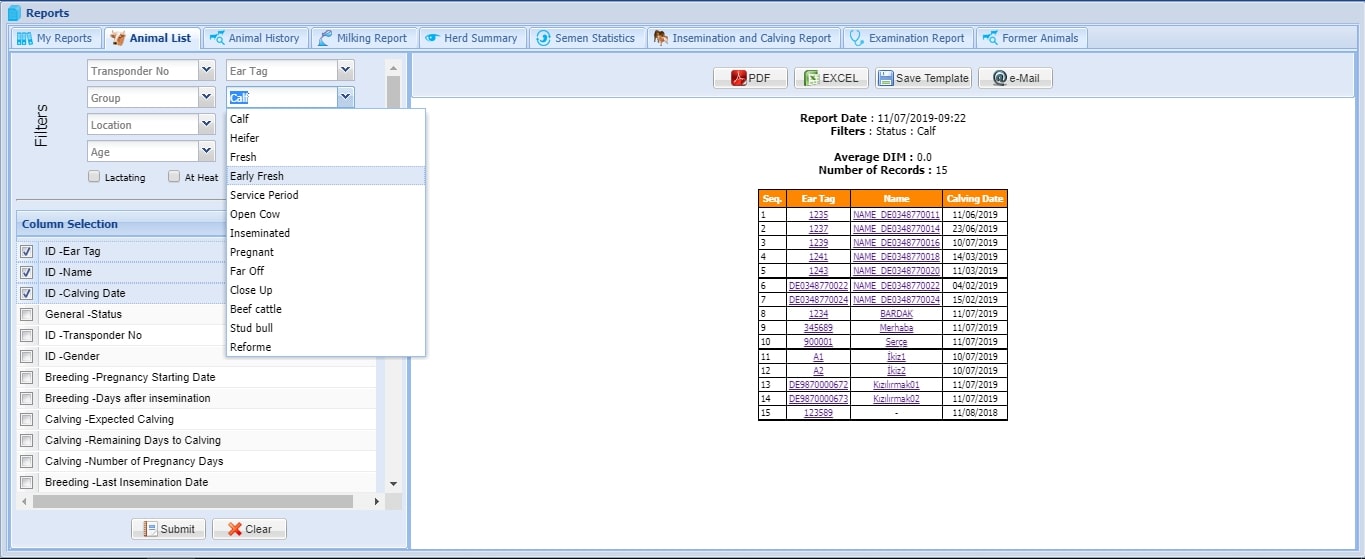 With the Dynamic Reporting infrastructure, each user is brought with the power and opportunity to easily create reports exactly in any desirable form, in accordance with his/her own perspective of requirements and then easily enter new data by simply running the relevant report template at any time of need. All these reports can be downloaded and shared with others, either in Excel or PDF formats.
In order to obtain the desired benefit from the MilkingCloud system, data entries should be made regularly. The greatest solution brought in that aspect, is that the system enables users to perform data entries from their cell phones.