Cattle Farming Industry and Climate Change
15 May 2019
-
Cattle Farming
-
Climate Change
-
Global Warming
Cattle Farming Industry has a serıous ımpact on the ecosystem due to the environmental problems it causes. This sector is seen as the lead source of biodiversity losses that ranking in the top tier of greenhouse gas oscillation.

On the other hand, however, livestock breeding is the lead actor in agricultural economics, that supplies a substantial portion of the mankind's demand for food. It's being an industrial segment that will severely be affected by climate change can be addressed as another aspect of the business as going concern. For these reasons, mitigating the impacts of livestock breeding on climate change, ensuring that the sector gets minimally affected by losses in animal production and product loses that will occur due to increasing temperature versus declining precipitation, are among the top priority subjects to be further studied. Because a drop is not expected in harvest rates of agricultural crops concomitant with climate change. At this end, livestock breeding performance will also get adversely affected. As a matter of fact, FAO predicts that 2 billion 800 million people around the world will suffer loss of income by 20%.
Effects of Climate Change on Cattle Farming Industry
While all forecasts unanimously conclude that the climate change will radically alter the world and all life on it, some thoughts maintain that its effects will differ significantly on an interregional basis. Nonetheless, the cattle breeding farming will also get its share from this change.
As a matter of fact, global warming is not expected to retain the same level in every region on earth's crust. An increase in temperature by 3-4°C is expected to rise the sea levels by 35 cm at most, with glacier melting, in 2050. This is a problem which may cause major agricultural and settlement areas situated along the coastal line submerge under the seawater, as well as salination of fresh water springs located close to shores, which poses a grave threat in terms of future of global drinking water reserves. The public concern of fresh water will perhaps evolve into a top priority global concern for all creation of a world getting constantly hotter, in the 21st century.
The country's national animal existence dropped almost by half to 40 million heads from a baseline of 80 million heads in 1980. Accordingly, meat production of the country also retains a level well below industrial states. Global warming will adversely affect the meat and milk yields of the livestock and worsen malnutrition.
What Kind of Measures Can Be Taken?
● Animal presence per unit area should be reduced to avoid surpassing holding capacity of the grazing yard.,
● In order to alleviate the animal load in unit area, water spots should be carefully dispersed across the facility and rotational grazing system be adopted,
● Mechanisms should be established to resolve conflicts between wildlife, livestock breeding and agriculture,
● Grazing management systems should be popularised,
● In order to minimise losses in terms of animal production, local, indigenous gene sources that can adapt well to harsh climatic events and environmental conditions should be preserved, and more and further studies performed to explore and identify new areas for their potential use.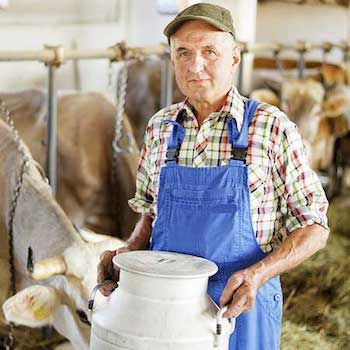 If you say yes to all of the questions below, then you can use MilkingCloud.
1. Do you own a smart phone or PC? Do you have live Internet access?
2. Are you ready to spend 10 minutes a day to enter regular data for the sake of your farm?
3. Are you aware that you should track your cows one by one, in connection with tasks at hand like heat, insemination, drying off and calving?
4. Have you ever forgotten things even once in a while?
5. If you had a helper to remind you about your work, do you believe that you could work more efficiently?