Give Direction to Your Future: Contemporary and Healthy Calf Breeding
10 May 2019
-
Raising a Calf
-
Feed Ratio
-
Calf
Gaining weight may be disturbing for humans, but, it is a matter of vital importance to a healthy calf. It is a well known fact that a healthy calf should weigh twice its weight at birth, before weaning.

The right feeds should be given at the right age for breeding healthy calves. Weight gain literally as intended, is of vast importance for breeding a calf, which not only has a healthy fat gain, but also a healthy skeletal and lean tissue mass growth. We may make 3 recommendations for you on breeding healthy calves:
From Birth to Weaning of the Calf...
Calves have the best feed yield ratio at the stage before weaning. This time frame plays a dominant role not only in weight gain, but also creation of muscular and skeletal structure. The growth of muscular and skeletal structure affects the ability in animals to exhibit maximum performance at later stages.
In this period the animal should be fed with milk or milk additives at minimum daily ration of 8 to 10 kg, in order for it to healthily gain weight and grow tissues. At this point, the protein and fat balance should as well be arranged perfectly.
First 6 Months Following Weaning of the Calf
The feed yield ratio drops at a significant level during the initial 8 weeks after weaning of the calf. During this time, consider maintaining the correct feed yield ratio when feeding the calf.
You may feed your animals with quality proteins within the first 12 weeks after weaning. Fed proteins will play a vital role in the healthy growth of animals' organs. Avoiding feeds like hay is essential for keeping your animal sound and in good health. The feeding attitudes during this transition will have quite beneficial implications on the animal's growth in the future.
Time Until Reproductive Period of the Livestock
When the animal is 6 months old, its feed efficiency will drop a little bit more. Due to low feed efficiency, you may want to feed your animal more. However, you may take advantage of the natural feed efficiency of a calf at the early days of its life. It would be much healthier for you to leave this phase behind with a balanced weight gain compound.
If the calf has not grown tissues at sufficient size, treating this defect later would prove to be a hard challenge. Therefore, primary focus should be laid on the nutrition process between the 8th and 12th months of life. During this process, we strongly recommend that you maintain contact with our veterinarian or other competent people having specialised knowledge in the area. You may plan the future of your herd at the end of this process.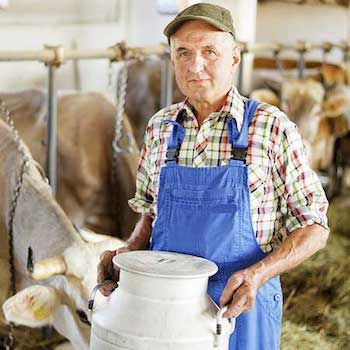 If you say yes to all of the questions below, then you can use MilkingCloud.
1. Do you own a smart phone or PC? Do you have live Internet access?
2. Are you ready to spend 10 minutes a day to enter regular data for the sake of your farm?
3. Are you aware that you should track your cows one by one, in connection with tasks at hand like heat, insemination, drying off and calving?
4. Have you ever forgotten things even once in a while?
5. If you had a helper to remind you about your work, do you believe that you could work more efficiently?