Do Your Cows Drink Enough Water?
10 May 2019
-
Water Consumption of Cows
-
Farm Management
Water consumption is fundamental to milk production. Even though farmers always keep focusing on ration, quality water consumption is an easy to solve and highly effective factor. As already known, 90% of milk consists of water. There are two criteria for proper water consumption by animals: Quantity and Quality. We will soon discuss a few matters about Water Consumption of Cows and management of this process.

Cows Should Drink Water When They Need
Your cows drink water every once in a while along the day. However, the peak hours of water drinking of the day are after milking and eating. Animals travel along a certain path for food and all eat in groups. Therefore, they will drink water altogether and at the same time. When cows drink water in groups, presence of a dominant cow may force its subordinate to step backwards, and can't supply enough water. In such case, means should be provided to facilitate full and equal access for every cow to the water source. Water Consumption of Cows should be at equal levels.
In Farm Management, you should correctly plan the water consumption spots according to your organisational structuring and number of your animals. If your cow does not drink enough water, it may not give you the amount of milk you want.
Water Consumption Affects Reproductive Cycle
Water consumption rates increase in the lactation period of cows. Drinking water is as much essential as eating in dry cows. They should drink water when eating food, to digest what they intake. Thus, the transition to lactation processes will be easier.
It is of vast importance that livestock should drink water during the Heat period. Failure to intake water at sufficient levels may cause stress during Heat periods. Stress reduces the milk yield of cows. During such periods, it is essential for livestock to gain full and easy access to a water source.
Water Must Be Clean and Good Quality
Management of water quality can be a challenge in Farm Management. You should pay particular attention to the clean and high quality of the water the animals drink. Regular maintenance and cleaning is entirely in your hands. You do not want your animals to drink water that is smelly or containing infection risks.
Use reasonable precaution to not let any industrial manufacturing site to be present in around your farm. Test your water regularly in case of industrial manufacturing. Make sure to check water-borne external factors for presence that might have detrimental effect on your animals' health. If your animals drink quality water, it means that they give quality milk..
Animals can be happier with proper farm management and give more milk. Your happiness will increase with the happiness of your animals.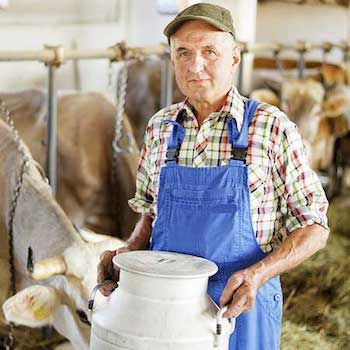 If you say yes to all of the questions below, then you can use MilkingCloud.
1. Do you own a smart phone or PC? Do you have live Internet access?
2. Are you ready to spend 10 minutes a day to enter regular data for the sake of your farm?
3. Are you aware that you should track your cows one by one, in connection with tasks at hand like heat, insemination, drying off and calving?
4. Have you ever forgotten things even once in a while?
5. If you had a helper to remind you about your work, do you believe that you could work more efficiently?