Manure Management In Cattle Farming
20 May 2019
-
Manure Management
-
Liquid Manure
If cleaning and evaluation phases of manure management are wisely managed, they may turn into an added value activity for the producer. Otherwise, they will be an environment contaminating factor. Manures pollute soil, air, ponds and streams.

The slurry mix composed of liquid and solid rejects of animals is called "liquid manure". The rate of liquid manure for bovine animals vary in a range of 82-92%. In this article, we will dive into details of methods for removing out of barns, storing and utilising manure for.
Cleaning of Manure
Many manure management cycles involve cleaning and conveyance systems. The greatest differences between these systems lie in mechanisation, type of sheds used, workmanship and initial investment costs. In open air and semi-closed barns, removable manure occur in solid and half solid states. Only in rare cases can they take the form of liquid manure, during dense pluvial periods. Fertilisers are produced with the scraper blades fitted in front or at the back of tractors or using heavy machinery especially designed for the purpose.
Here, the scraped manure can additionally contain rainwaters, soil, chemicals and fill materials. All this mix is treated under the common name manure.
In confined barns, manures are cleaned by means of grated floor and gravitational manure removal technique, employing mechanically operated scrapers moving on a certain track, or scrapers fitted in front or at the back of a tractor and by flushing at high flow rates. Manures taken from barns are either disposed to closed manure pits or inside tanks located inside or immediately next to the barn.
Transmission of Manure
The manure cleansed out of the shelters are transmitted to the manure tank either by gravity or by means of pumps. The dry matter concentrations in the manures serve as the determinant of the transmission system for the manure, in collaboration with the use of bedding or base materials, need for labour force and storage system of choice.
One of the alternative ways for transporting manure removed from the shelter to the manure tank is to pump it all the way. This method involves the transfer of manure to an interim storage to retain them for a couple of days after the shelter and pumping of the same to the final location where they are to be stored. The transit storage is built relatively close to or immediately after the shelter.
Storage
Manure cleansed off the shelters may not always be sent to farms directly. The manure has to be stored in a confined space due to such reasons as muddy conditions of the farm, type of plant to be grown, special requirements of the farm or risk of potential contamination.
Once you do the planning for all of the preceding, the entirety of such factors as the quantities of manure produced by animals, padding and bedding materials, flushing water, fertiliser diluting water, etc. should be included in the calculation of storage capacity.
If the storage is built in the form of a yard, then the regional average precipitation over long years should be taken into account, as well. The storage should be built so that it may not cause any pollution in the environment or disturbance to its close vicinity or release odours.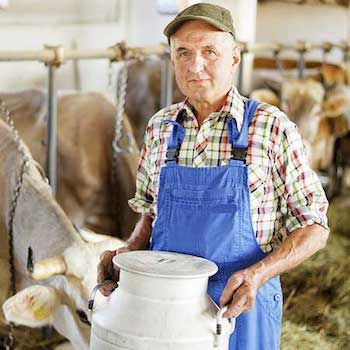 If you say yes to all of the questions below, then you can use MilkingCloud.
1. Do you own a smart phone or PC? Do you have live Internet access?
2. Are you ready to spend 10 minutes a day to enter regular data for the sake of your farm?
3. Are you aware that you should track your cows one by one, in connection with tasks at hand like heat, insemination, drying off and calving?
4. Have you ever forgotten things even once in a while?
5. If you had a helper to remind you about your work, do you believe that you could work more efficiently?