Mobile Cattle Monitoring App
24 Apr 2019
-
Mobile Cattle Monitoring App
-
MilkingCloud
-
Dairy Farms
MilkingCloud Mobile Cattle Tracking Application makes it possible for you to track your herd from your mobile phone. A great alternative for those who are bored of such conventional methods as Excel sheets, notepads or PDAs, MilkingCloud offers further opportunities for a more professional workflow and the ability to share information with people more easily.
MilkingCloud is a user-friendly herd management application and cattle tracking system that allows you to track every single animal in your herd and manage its insemination, vaccination and synchronisation procedures while keeping you alerted all the way through by receiving auto-generated reminders. You can use either on your cell phone or PC without worrying about any potential loss of data.
You can easily view the animals in your herd that are expected to be dried off, or approaching calving and even found to have reached heat by the M2Moo heat detection system (activity meter).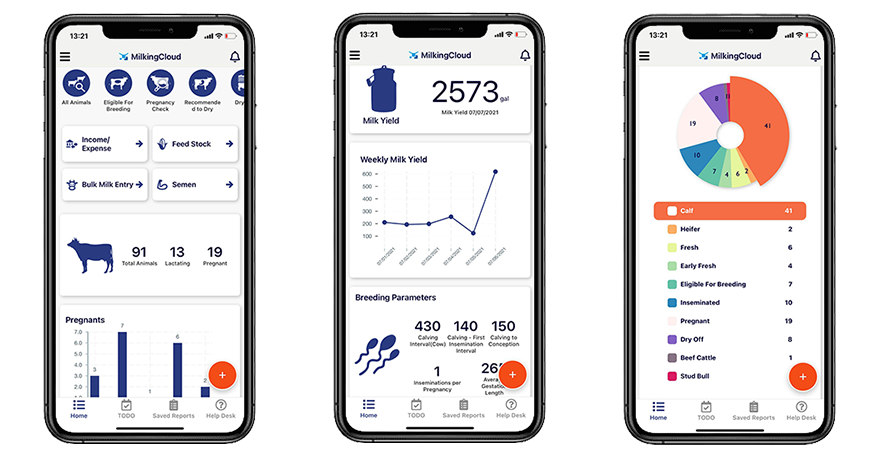 You may smoothly enter each animal's data in their own files. Therefore, you will be able to track such information as Milk Data, Insemination, Pregnancy, Drying Off, Diseases, Heat Detection, etc. in detail. With MilkingCloud, you can view the current status and results of your operation separately in an income/expense statement.
Mobile Dairy Farm Management App
You can track the following tasks in detail and view all previous instances that are completed and delivered in chronological order.
Lists, Daily Tasks and Reports
Animals Ready For Insemination
Those Which Need to Undergo Pregnancy Check
Animals Getting Close to Delivery
Animal Addition Procedures
Animals in Heat (operates as integrated with M2Moo Heat Detection)
Our mobile app consists of four main sections: Lists, Daily Tasks, Reports and Help Desk. In the lists section, you can see all details about your animals. Under the daily tasks section, you may view the to do list for the day You can find the reporting for your animals in the Reports section. In the Help Desk window, you may write to our technical support team whenever you need help with using the software.
Mobile Breeding Farm Management App
You can track the following procedures in detail in your breeding farm and see your past operations.
Animal Trading Transactions
Operating Income/Expenses
Through the feedstock screens, you can track the Purchase, Sale, Availability and Consumption statuses in detail for each feed held in your stock.
Also, our veterinarians can easily monitor all these facilities. Our veterinarians can facilitate all these means depending on the farm or size of animal population being tracked by our Packs.
You can take bovine breeding to a completely new level with the Cattle Tracking Software, designed and produced by our local engineers for over a decade.