Pressing Issues in Cattle Herd Management
14 May 2019
-
Cattle Herd Management
-
Cattle Tracking Application
-
Drying Off
You should implement the right management type to keep your income at maximum levels in your operation. You may have your own customary practices or get help from outside your organisation about Cattle Herd Management.

As developers of MilkingCloud Cattle Tracking Software, we have been working on this matter for long years. Therefore, we may enumerate the 5 most prominent problems in Cattle Herd Management, as follows.
Tracking on Excel Files or Logbooks
Farmers believe it to be healthier to personally track their feedlot cattle in herd. However, an excel or logbook based cattle tracking effort contains a lot of risks inherently. You may not have everything at hand when you want to try to access your animals´ data. There is a high probability that your data would be lost, even after you enter this data, due to a crash or breakdown.
MilkingCloud Cattle Tracking Software keeps your data safe in your own custom way. By no chance a situation may occur that would cause or result in loss of your data.
Missing the Birth Control and Time for Drying Off
Ensuring sustainability of a dairy farm is conditional upon healthy offspring delivery by the animal at the right time. Confusing insemination dates and failing to perform pregnancy checks on time may result in tremendous losses. Missing the dry off time following pregnancy sickness may as well prevent the birth of a healthy offspring.
MilkingCloud Cattle Tracking Software is a herd tracking application designed to work according to the life cycle of a cattle. Once you specify the dates and procedures concerning your animal accurately, the application will keep a track of your animal on your behalf. Additionally, the auxiliary procedures that should be performed will be notified to you through e-mail reminders.
Need for Access to Instant Data
You may feel the need to access a particular information regarding your herd, when near your livestock or at a distant location from your farm or on the go. Inability to retrieve such information may have serious consequences on you. Wouldn't you wish to retrieve your animals' data through your cell phone with a single tap and leave all this trouble behind and for good?
All farmers are able to track their animals from their cell phones and eliminate all these risks. Following your purchase of MilkingCloud Cattle Tracking Software, you can download it on your cell phone and get instant access to any changes that you made about your animals.
Keeping a Close Track of Examination and Vaccination Times
Animals in good health is a matter of vast importance for the sustenance of your business. It can be hard for you to track their health-check and vaccination times. You may get confused with which health-check or vaccine applies to which animal. In order to prevent this, what you need is a system that will track all relevant data and dates for you, in the most diligent and careful manner.
You may track your animals whether singly or in groups with more than 20 default examinations and vaccines stored inside the Herd tracking application. While the tracking is in progress, you may make your tasks easier with e-mail notifications, if you desire.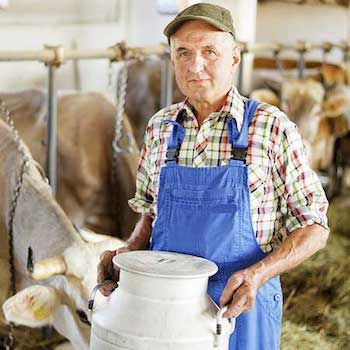 If you say yes to all of the questions below, then you can use MilkingCloud.
1. Do you own a smart phone or PC? Do you have live Internet access?
2. Are you ready to spend 10 minutes a day to enter regular data for the sake of your farm?
3. Are you aware that you should track your cows one by one, in connection with tasks at hand like heat, insemination, drying off and calving?
4. Have you ever forgotten things even once in a while?
5. If you had a helper to remind you about your work, do you believe that you could work more efficiently?