To Boost Milk Yield in Cows at 3 Steps
13 May 2019
-
Milk Yield
-
Bovine Mastitis
-
Cattle Tracking Application
Everyone knows that most of the income at a dairy farm operation comes from calves and milk production. This is why, management of fertility and lactation is of vast importance.
In order to optimise both fertility rates and milk yield, every cow in your operation should be provided to calving at least once in a year. However, this can neither be measured nor tracked in any operation. And, in fact, evaporating profits are encountered in many operations, because the mean time between any two calving gets beyond 360 days.
1. One Calf for Every Year
Each cow starts producing milk after calving. Therefore, it is important that the milk yield should be retain at optimum. You should keep reproductive performance of your cow at the highest level attainable.
You should make insemination at the appropriate time and track the pregnancy process correctly. With MilkingCloud Cattle Tracking Software you can track your animals' readiness for insemination. This way, you can guarantee calving on time and consequently, an increase in your productivity.
2. The Worst Trouble That Reduces Milk Yield: DISEASE
Mastitis is the most important disease affecting milk yield in cows. Bovine Mastitis causes severe economic losses by inducing sudden drops in milk yield.
Especially since diagnosing sub-clinical mastitis, an illness that contracts without any visible symptoms is quite a hard task, you should always keep bovine mastitis under close surveillance and tight control. 'MASTIPRO' makes it possible to diagnose mastitis in cows, when they are milked and without being exposed to any stress factor.
In addition, such diseases as hypocalcemia, ketosis, retensio secundinarum etc. that may occur after calving, may cause instant drops in milk production rates, for reasons like foot problems, lameness and etc. You can learn the examination times of these diseases and the animals which should be taken to examinations, through the system and prevent such diseases without any further delay.
3. The 2M Rule (Merry Cow=Maximum Milk Yield)
The more you try to keep the cows in comfort at your farm, the higher the economic yield they generate will be. Proper mat management, a clean and comfortable place to lye down, a large area for wandering, consistent supply of quality feeds and heat stress protection are among the various methods for you to adopt for improving and maintaining animal comfort. Especially when it gets hot outside, if you happen to wit falls in physical conditions of the animals you daily track on the system or experience instant drops in milk yield, then you will have to review all the parameters. You may easily track all such changes with MilkingCloud Cattle Tracking Software.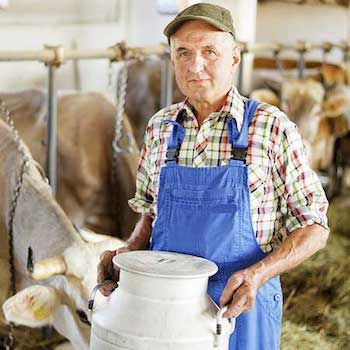 If you say yes to all of the questions below, then you can use MilkingCloud.
1. Do you own a smart phone or PC? Do you have live Internet access?
2. Are you ready to spend 10 minutes a day to enter regular data for the sake of your farm?
3. Are you aware that you should track your cows one by one, in connection with tasks at hand like heat, insemination, drying off and calving?
4. Have you ever forgotten things even once in a while?
5. If you had a helper to remind you about your work, do you believe that you could work more efficiently?