What is Selective Feeding?
21 May 2019
-
Selective Feeding
-
Ration
Selective Feeding is a system of feeding which grants the opportunity for animals to choose and consume their own rations. The feeds to be selected from have to show an extension with lower and higher level(s) in terms of nutrients they contain.

In selective feeding, the feeds to be presented to animals should ensure the sufficient extension in terms of nutrient composition. For instance, if an animal the predicted raw protein requirement of which is 20% is given feed A (with 40% raw proteins) and feed B (with 24% crude proteins) for selection, the animal will lay priority on feed B, which is closer to its raw protein requirement of 20%, and accordingly consume it within limitations of tis physiological and metabolic tolerances.
This presents a forced feeding rather than a selective one. However, if feed A with crude protein concentrations of 40% is administered in combination with feed B containing a raw protein concentration of 12%, and in the absence of any restrictive factor in feed B, the animal tries to develop its own ration by consuming feed B more (%75) and feed A less (28%).
How can Selective Feeding be Applied?
Before proceeding with selective feeding, the feeds or feed raw materials which form the alternatives of selection should be given to the animals separately for a certain period of time (6 to 24 hours) 3 or 4 times, to let them get used to the metabolic and physiological effects of these feeds.
For the purpose, if selective feeding is to be carried out with 2 feeds or feedstuffs, for instance, the 2 feed sources are served to the animals at 12-hour intervals in rotation for a period of 3 days in a row, and on day 4, both feeds are served to the animals at the same time. If three feeds or feedstuffs are to be served, then the same procedure is repeated over 36 hours (namely, Feed A for 12 hours, Feed B for 12 hours and Feed C for 12 hours) and following the lapse of 4 x 36 hours (or 6 days in aggregate), 3 different feeds are served to the animals on day 7.
Such feeds for Ruminants, as barley and wheats, that pose risks when presented alone, have significance for prevention of metabolic diseases from occurring, if and to the extent, given in restricted amounts or together with additional dry weeds, during exercise. Similar measures should be taken for pulps as well. Since some animals may not organise their feed consumptions depending on the feeds' effects following ingestion.
The natural ability of animals to choose their forage is not new knowledge. Animals cannot exhibit their skill to select between feeds, as a result of domestication, genetic improvements and standardisation of environmental conditions.
Ancak, seçme imkânı tanınırsa, hayvanlar değişen genetik yapılarına rağmen hâlâ yem seçebilmektedirler. Seçmeli yemleme, hayvan refahının iyileştirilmesi için alternatif bir yemleme sistemidir.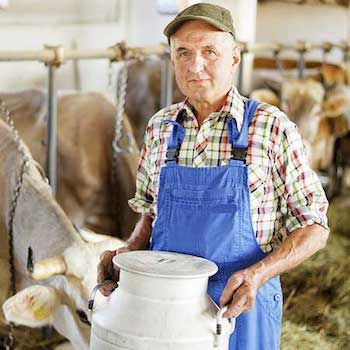 If you say yes to all of the questions below, then you can use MilkingCloud.
1. Do you own a smart phone or PC? Do you have live Internet access?
2. Are you ready to spend 10 minutes a day to enter regular data for the sake of your farm?
3. Are you aware that you should track your cows one by one, in connection with tasks at hand like heat, insemination, drying off and calving?
4. Have you ever forgotten things even once in a while?
5. If you had a helper to remind you about your work, do you believe that you could work more efficiently?